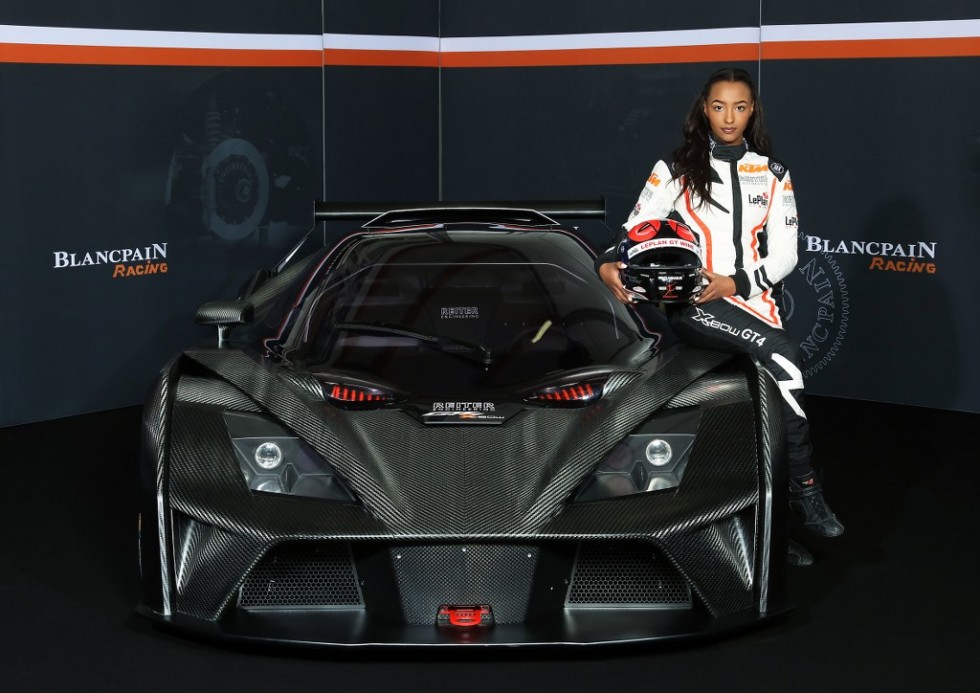 Naomi Schiff (born in Belgium, raised in South Africa and currently living in Germany) is young (21), gorgeous and fast. She gets to race the KTM X-Bow GT4, is the happiest at circuit Spa Francorchamps, looks up to idol Lewis Hamilton, isn't intimidated by men and hardly cracks under pressure.
Where and when did your racing career start?
It all started in South Africa at the age of 11. I had been invited to an Indoor Karting birthday party of a family friend. Unexpectedly, I really enjoyed it and didn't want to leave when the day was over!
After that day, I knew I wanted more.
Can you tell me something about your current car/cup?
Currently I'm racing for Reiter Engineering who is famously known for their manufacturing of Lamborghini GT3 , Camaro GT3, and most recently, KTM X-Bow GT4 racecars.
The contract with Reiter means a lot to me. The world of motorsport is extremely competitive so when you make a breaktrough like this one, its a reflection of the work you have done and it goes to show that its not unnoticed.
Reiter is directly manufacturing the KTM X-Bow GT4, which I get to drive. I get to see all of what goes into making and running cars on this level by joining this team. There's no better way to get to know your car, inside and out.
Is this your fulltime job at the moment?
Yes, currently this is my full time job. I'm lucky enough that the team offered me a job in marketing and sales assistance for during the week when were not too busy with racing. So that is how I fill my workweek.
Juggling study, work and this career, is simply not possible. I have the opportunity to work and race at the same time, which is rare in itself. At this moment I'm fully dedicated to racing and I want to see where it takes me. If it doesn't work out, there will always be time to study.
How do you keep yourself fit and in shape?
I go to the gym regularly but it sometimes gets a bit boring and monotonous, so i like to do things which stimulate more than just your muscles. Thai boxing is one of them. It's great for the mind, body and reflex. I also recently started to do Jujitsu, which is more of a self-defence art, but it is still very physical and challenging. Last but not least I also really enjoy wall climbing. It's great for upper and lower body strengthning and it helps you to overcome challenges.
What is it you like the most about racing?
I think it's a combination of a lot of things; firstly it's the ability to control an extremely powerful car and then also bringing it to reach its limits. What I like the most about racing is being in the cockpit and driving. The kick, the rush. In that moment there is only you, the car and your goals.
Is it extra hard competing as a woman in a men's world?
I think women in the sport are often judged before they're given a chance, and this can often be the reason why women are not given a chance. But from what I have experienced, once you are given that chance and you can prove your abilities, the respect is given where earned.
And the people who previously discouraged you or judged you, dont realize that they're just adding fuel to a fire. So in all honestly, we just have to thank them for motivating us a little more!
Where do you see yourself within the next 5 years?
Within the next 5 years I want to extend my CV. With some more success and a little bit of luck I hope to be in a position where I can rely on my racing career, in order to support my future. I hope to be able to race globally for as long as possible. Meeting new people, new challenges and new victories.
Facebook: Naomi Schiff Racing | Instagram: @naomischiff